NIBTC Registered Breeders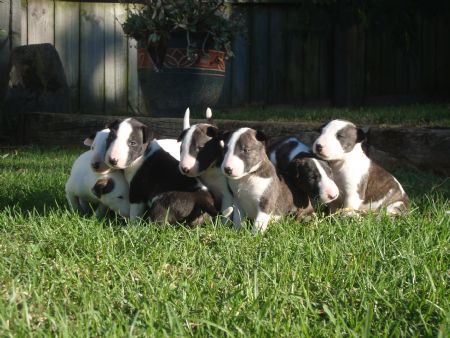 Read to the bottom of the page, then click the link to the list of NZKC Registered Breeders.
Breeders of Registered Pedigree Bull Terriers and Miniature Bull Terriers
The breeders linked from this page are members of our club who breed NZKC Registered Pedigree Bull Terriers. They will only breed from sound animals with good temperaments that have passed the appropriate health tests listed below and will offer you a lifetime of help with your pup. They should also be prepared to take back any pup they have bred, or help you rehome if the situation arises.
They will only mate their stud dogs to NZKC registered Bull Terrier bitches that have no breeding restrictions placed on them (ie only to bitches whose ensuing progeny will be NZKC Registered) and will not mate them to any other breed of dog unless it is part of the NZKC interbreeding program for Bull Terrier (Miniatures).
What you should expect when you buy one of these pups:
Copies of Veterinary health clearances for the sire and dam.
A purchase agreement clearly stating any conditions of purchase
A breeder sponsored membership to the North Island Bull Terrier Club
Inoculation booklet
A diet sheet
A small supply of the puppy's current food
Health Clearances should be provided by the breeder for the following:
Luxating Patella - Veterinary clearance
This problem affects the knees of the dog. The groove that the knee cap sits in is too shallow and allows the knee cap to slide out of place which is very painful. There is a grading system that vets use to determine the severity of the problem. Even with careful testing this problem can still be evident in puppies bred from clear parents. We call this a recessive gene.
Nephritis - UPC reading of 0.3 or less stated on veterinary letterhead
This disease is a type of kidney failure. There are very few instances of this disease now in NZ as careful testing has all but eliminated it. A urine sample is collected and tested for the amount of protein excreted.
Polycystic Kidney Disease - Veterinary clearance (can be by parentage) Veterinary ultrasound.
Another kidney disease which is of the dominant type which means that once parents are clear it will not affect any offspring. A very powerful scanner is required to carry out this diagnostic, a specialist vet is required to certify this.
Heart disease and murmur - Veterinary clearance (auscultation with stethoscope)
Deep chested breeds may develop heart disease later in life, faulty valves and murmurs can be hereditary. A Doppler test is the highest standard of diagnostics for heart problems.
Deafness - BAER Testing (optional) Professor Joe Mayhew is the only recognised operator in NZ, he is tenured at Massey University, but will travel to undertake hearing clinics.
Primary Lens Luxation (Miniatures only – can be clear by parentage) Diganosed by DNA.
This painful hereditary disease affects the eyes. The lens detaches from the retina causing blindness and extreme pain. Dogs are either affected, carriers or clear of the disease.
Breeders details can be viewed by clicking here.
Contact Details
The Secretary
North Island Bull Terrier Club